Important info for international competition athletes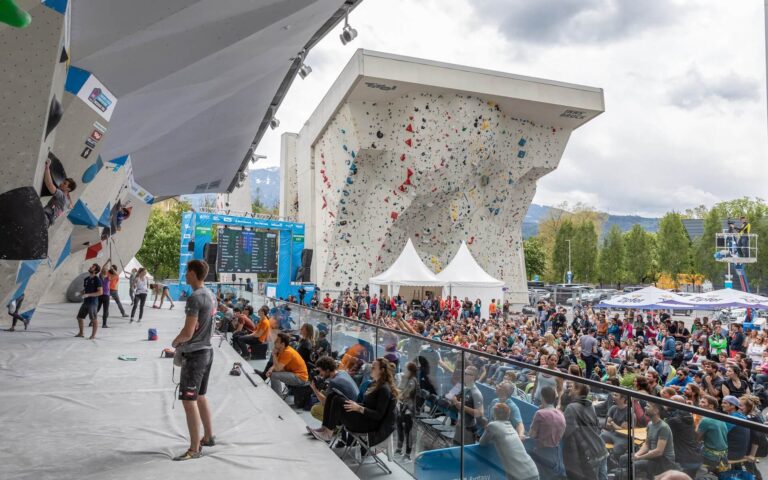 23 Juni 2022
In June, our climbing facility will host several major international climbing competitions: the Student World Championships (June 13 – 17), the IFSC World Cup (Para, Bouldering, Lead) and the Speed European Cup (all between June 21 – 26).

Due to the preparations, there will therefore be limited climbing or training opportunities throughout June especially in the competition and training areas of the Climbing Federation.
For public climbing all other areas will be available with few restrictions – we thank you for your understanding!
1. parking and competition area outside: from Friday, June 3, parking on site will be limited. At the same time the routes in the steep competition area outside have to be dismantled. Both parking and the steep competition area will then only be available again without restrictions from July.
From this time on, individual accesses to the course or the hall may be closed: please follow the corresponding (detour) signs.

2. outdoor bouldering: From Wednesday, June 15, the outdoor bouldering facilities will also no longer be available until probably the end of June.
3. steep lead sector indoor and boulder-training area or Rondell-sector: The right, steep competition and training area indoor is partly used daily by the Austrian Federation exclusively, so that other athletes can only come to the trainings outside these times.
Our request to all other athletes or teams: please inform or coordinate with the Austrian Climbing Federation in order to avoid traffic jams and empty times.
4. bouldering area inside closed resp. limited operation: on June 14th and 16th the whole bouldering area will be used as warm-up zone and iso-zone for the student world championship and will therefore probably be completely closed on these two days. On the other competition days (June 13-17 and June 21-26), part of the bouldering area will be closed off as a warm-up zone for the athletes, so that bouldering will only be possible in the northern part of the half-cycle (sectors mushroom, NW-corner, roof and ramp).
5. entire climbing facility closed: on June 22nd and 26th the entire climbing facility is needed for the qualification of the Boulder and Lead World Cup respectively and therefore remains completely closed on these two days.
6. on the final days last entry at 18.00: due to the entry regulations at the Climbing World Cup, on the 22nd, 23rd, 24th and 26th of June the entry to the hall is possible until 18.00 – climbing then normally until 22.00.
Info for spectators:
Except for the finals of the IFSC World Cup (22 / 23 / 24 and 26 June each from 18 clock) is free admission to the qualification and semi-final competitions. We and the KVÖ as organizer are looking forward to your coming.
More information about the events can be found via the following links:FISU World University Championship) IFSC Climbing World Cup & Speed European Cup – Tickets for the World Cup finals will probably be available on this homepage from May 1st.